Browse Official Colin Prime Photographs
Browse Official Colin Prime Photographs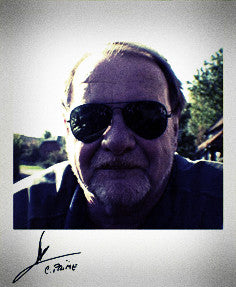 Born in 1948, in South London, Colin Prime studied at the London School of Printing and Graphic Arts. On leaving school he followed his older brother (Tony Prime) into photography. He joined a commercial photographic printing house to learn darkroom skills. In the late sixties although he enjoyed the darkroom side, he also wanted to get behind the camera and joined Fleetwood Publications as a trainee photographer working on Honey and Petticoat magazines.
As his career moved on he worked alongside people like Len Fulford, Morgan Rank, and Vic Savage. He still enjoyed working in the darkroom, and working with Gerry Dickens he printed for photographers such as David Bailey, Helmut Newton, David Hamilton, Clive Arrowsmith and Richard Avedon when he was in London.
Colin's other love was music and not playing or singing a note decided to try his hand as a Disc Jockey. It was while he was hanging around the clubs he came across a group just starting out called Pink Floyd which led to setting up the bands first professional photo shoot. Syd Barrett used one of his photos as the design for the back cover of their debut album, The Piper at the Gates of Dawn.