Browse Official George DuBose Photographs
Browse Official George DuBose Photographs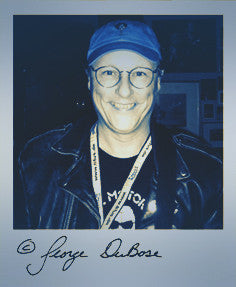 Originally apprenticed to commercial and fashion photographers, George DuBose first became associated with New Wave music after he began speculative work with the fledgling B52s from Athens, Georgia. He has photographed and designed over 300 album covers, collecting 18 gold andplatinum albums for groups as diverse as the REM, The Go Gos, Melissa Etheridge, Kid Creole and the Coconuts, Biz Markie and Big Daddy Kane.
The Ramones have commissioned him to photograph or design their last nine covers and it is their only gold record for Ramonesmania that he treasures most. He continues to provide creative guidance, art direction, computer graphic design, photography, manufacturing assistance for major record companies and up-and coming artists that want to produce their own albums.
DuBose's professional experience includes staff positions as art director and photographer for Island Records and Cold Chillin' Records, the first photo editor for SPIN magazine and The Image Bankbook division and staff photographer for the original Interview magazine. His company, PopEye Designs International lists Island Trading Company, The New Music Seminar, PolyGram, Warner Bros, Sony and MCA among its clients.